This weekend was the NYC Half – today to be exact. I ran it two years ago, and had a good time, but it's a lottery process to get in (unless you are super speedy or run 4 of the 5 races in the Borough Series or ru for a charity), and I just haven't bothered last year or this year.
The expo for this one is pretty small with only a few vendors. I skipped it last year and had planned to skip it this year, but then I saw something either tweet-wise or on facebook from Generation U Can (aka: magic juice!) that they were having a special at the expo, so I decided to go and pick some up as I had none of the pre- and during-run stuff left and only the chocolate for recovery (I'm a chocolate fan usually, but not in this case, sorry guys). So after picking up and mailing my foodie penpal (more on that later!) packages and before the FRNY Track Meet, I headed to the expo.
It took me a minute to get oriented as I somehow went in through the exit area, but as I was walking around, I noticed a booth for Snuggbuds. I've heard about them a lot on The Marathon Show as Joe swears by them. Back at Tower of Terror, I'd picked up some Yurbuds as I've got friends who use those, and I'd tried them when I went to the NYC Ironman expo and liked them. However, I was discovering how easy it was to lose the bud coverings – and how hard to replace them, and had been operating with one of one size and another of another size – both nibbled on by my bird. So I was due for some new buds of some type.
Well, when Victoria asked if I wanted to try the Snuggbuds, I thought "Why not?" so I went over and tried them. I liked them. Chatted with her for a bit, and the price was right (definitely less than the yubbuds) AND getting them at the expo I got extra coverings! Victoria was great and the buds were so comfy, I got these
Then when I mentioned I had first heard about them on The Marathon Show and that's why I stopped to check them out, I got ANOTHER packet of bud coverings! Not gonna complain about that!
I took them out for my long run yesterday and love them!! I've got to play with the volume as I can't do the one ear in and one ear out thing, and they do block out a lot of ambient noise, but overall I adore them!! They stay in FAR better than the Yurbuds did, especially towards the end – and most definitely better then the buds that come with iPods which just absolutely do not fit my ears. So consider it two enthusiastic thumbs up for Snuggbuds!! Check them out on the web or the next time you see them at an expo! (And no, I got nothing for blogging about them other than the joy of sharing a find with you!!)
Other purchases at the expo: 2 Sweaty Bands (one in Team Tough Chik colors and one in green with white dots; more GenUCan, and an iPhone pouch for my iFitness belt.
Then it was off to the New Balance Armory to work registration at the FRNY Track Meet. Wowza it got crazy there, especially when there was a big enough crowd I started registration when I was all alone! Big thanks to Bernie and Cindy for jumping in as soon as they got there and then to Amy for letting me finish dinner! What I saw of the meet was cool! I don't have the guts to try track running yet, but it's fun to watch. After, I went with a bunch of the guys up to Coogan's where I had a Magners over ice and a plate of chocolate brownie sundae goodness. And a blast with the good company! And I could never be safer in a group of guys where I'm the only girl than I was! I love my FRNY boys!! (And the girls too – but none of y'all came!)
Yesterday I got up and did my run in Central Park – I was due for 7 miles. And I don't know if it was that I had slacked a little this week or what, but I felt great the whole time – even on the Harlem Hills. And my pace was 12:21, which was AWESOME for me for distance. If I can pull that in Nashville I will be ecstatic! Hell, if I can break 13:00 I'll be a happy camper!! I'm planning to do my 8 coming up on Saturday going the other way around the park so I'll have to go up Cat Hill AND up the parts of Harlem Hills I went down this time and see how that goes. Hoping it's not a fluke and the gym stuff is paying off!!
Went to running club for snackages and chatting, then wandered up to Lululemon to look at their TaTa Tamer bra – only I forgot my new size, so I'll have to go back. I did get a supercute hoodie I wore today since it's green: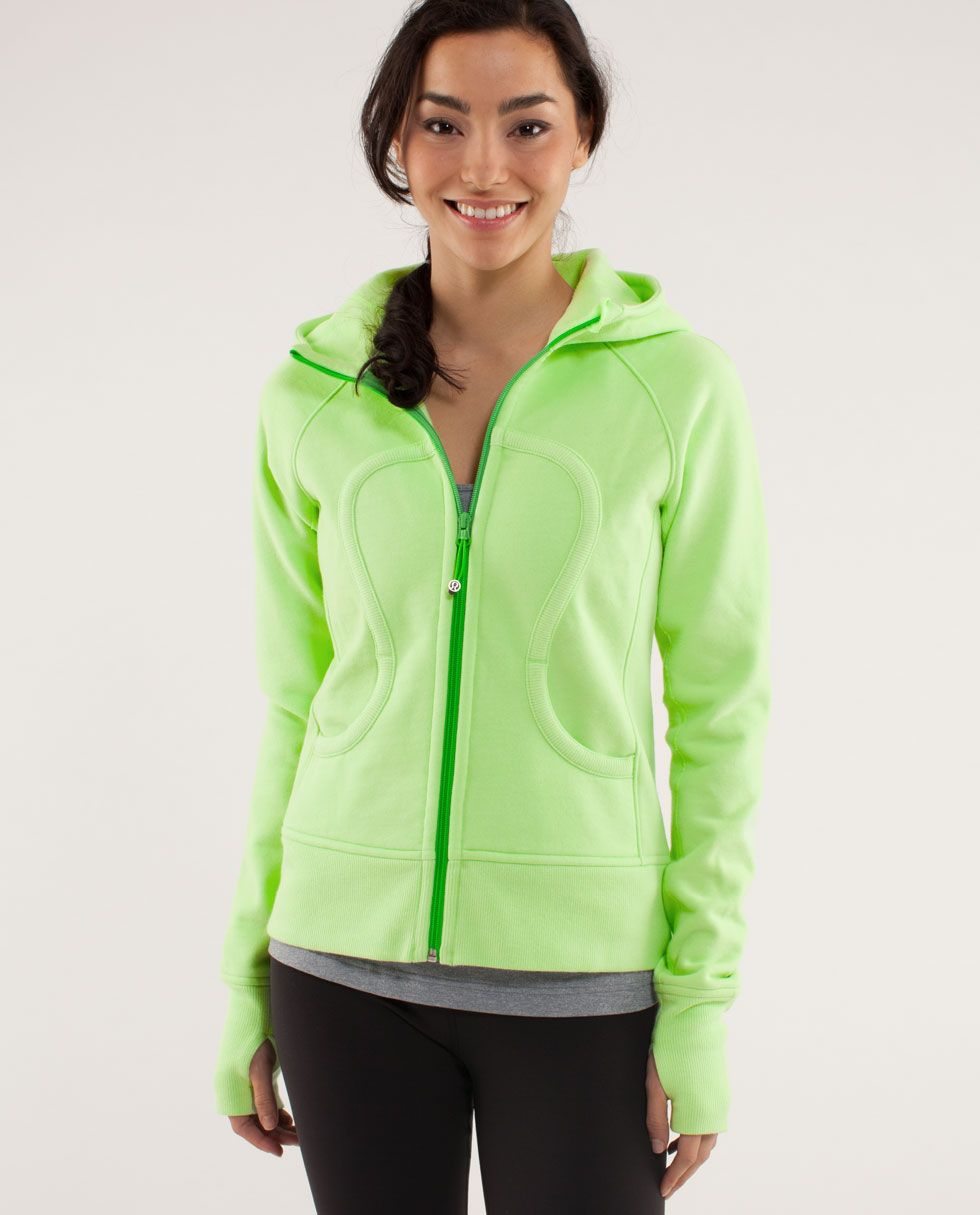 I LOVE it!!!! Then I went to Trader Joe's to get a "Blarney Scone" or two, but they didn't have them in that one. MAJOR SADFACE!!! Then it was home to chill, nap, and pack my stuff before heading to the store. Worked 8p-1a, then had a minor panic when my drawer was majorly off, but one of the cash team managers told me not to worry, that clearly something malfunctioned as the case pick up he did didn't even register, and I was adding up over at any rate, and sent me out. I headed up to Sandi and Rachel's to crash on the couch (BIG THANKS LADIES) for a couple of hours before bundling up and heading to Central Park to volunteer for the NYC Half today.
Now, I love volunteering at races – it's fun, and it's great to give back. But there was an added carrot for doing it today… Guaranteed entry into next year's NYC Half.
Yes, please!
I was a course marshal – which entails making sure that people stay within the cones, that recreational runners/bikers stay off the course, and if you're at an "intersection" that you hold people until a break in the runners (and then instruct them to run for it) or direct them to an underpass alternative way into the park. I'd done it at the 2011 Manhattan Half, and I kept trying to tell myself it was balmy today compared to that. Didn't really work, but it was worth a try.
It's a lot of fun to cheer the runners as they go by – and to try and spot and shout out to people you know along the course as well as supporting EVERYONE. Some of my FRNY peeps I spotted and yelled to by name, others just by team – and some I missed as I heard the people above me yell "Go Front Runners!" Oops! And I totally missed Kat as she ran by – she called to me. I attribute it to brain freeze as I was pretty much a Beth-sicle at that point, no matter how layered I was. Everyone looked good at my position – Mile 4. I understand there was one death around Mile 9. 😦 Always a sad thing, but I trust that he went doing something he loved.
Got finished and was out of the park by 10 – of course I'd been there about 5 hours by that point, but hey. Walked to Starbucks and got a skinny peppermint mocha. YUM! And began worming up. Went to the Union Square area and found the Blarney Scones at that Trader Joe's, so I got a couple of them and some Guinness. Went to Panera and got some soup to continue warming up. Then I headed to Paragon as I'd gotten a discount card at the expo and figured it was a good time to get another pair of shoes. Decided on another pair of Saucony Guides in TTC colors:
I'm loving this shoe! I do love my Brooks, but I love the color options Saucony has. Yes, Brooks did a Ravenna model with purple and neon lime/yellow laces, but the shoe itself is black and EW! Also grabbed a couple of pair of Balega socks – and got them for less than the list price of the Guides. So I'll take it.
Came home and took a 20-minute or so hot shower where I basically just stood under the water to thaw. Put on wooly socks, flannel pj pants, a hoodie, and turned on the heater in my bedroom before getting under my comforter and taking a nap. I'm finally feeling pretty thawed out (I'm sure that the two cans of Guinness I've had since I got home (at around 12:30, so they've been spread) help that too.). I'm also feeling that the sniffles of the other day are becoming full-fledged cold, but I cannot bring myself to go out and get meds. I've got a pack of DayQuil which I'm about to take, and I'll get another at a bodega tomorrow and hit Duane Reade before the store tomorrow night.
So it's been a great weekend of finds and running fun. And now I'm about ready to go to bed. Who cares if it's only 7:45. I predict I'll be sleeping within an hour.
Happy running all!